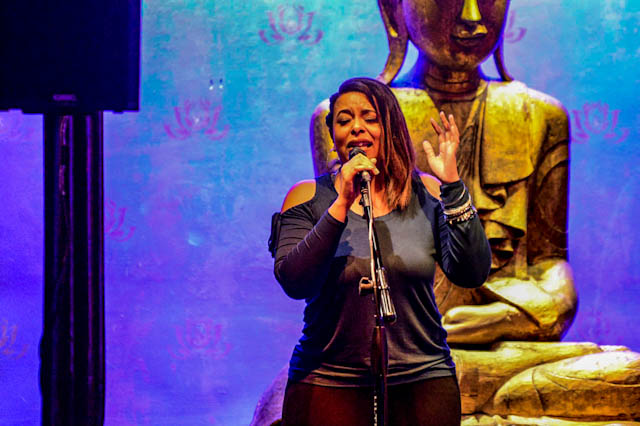 Sachiko is currently performing at seminars, corporate events, colleges, and private engagements around the country. Because many of these events are not open to the public, the best way to see her live is to book Sachiko to come to you!

Book Sachiko for your next event - Call 949.329.5255!
Sachiko Tiana Nuila has spoken to over 3,000 people on 25+ stages at events, conferences and seminars. She combines speaking with original live music to deliver her unique "Keynote Concerts". She has been played on radio stations in several countries, including the U.S., performed multiple times at House of Blues Anaheim and has music featured on iTunes, Spotify, SoundCloud, YouTube and Amazon. Sachiko Tiana's original songs range from a mix of thought-provoking lyrics to flirtatious love songs to fun and groovy, soulful tunes. People have said she has the smoothness of Sade, the emotional essence of Anita Baker, combined with the lively positivity of Alicia Keys.
With her captivating stories, hypnotizing singing voice, authentic stage presence, and inspiring music and lyrics, Sachiko is a Motivational Keynote Speaker who creates a truly unique experience for her Keynote Concert audiences. This one-of-a-kind combination of soulful music and her real-life story of triumph, inspires all to fight for their dreams and see possibilities regardless of their circumstances. No matter who you are, you're guaranteed to leave with a heart full of joy, simply because of the love Sachiko brings to every aspect of her message.
When she's not speaking and performing, she is serving her team as CEO & Founder of Nuila Events, LLC - a Corporate Events Management company specializing in creating strategic concepts for first-time events. Because of her background in corporate training and expertise in the event industry as well as audience profiling, she knows exactly how to tailor her message to your specific audience, and she makes sure everyone walks away with golden nuggets that increase productivity, engagement and creativity well after the event ends!
Learn more about Sachiko Tiana's upcoming Podcast today!
BOOKING
If you would like to have Sachiko Tiana perform at your venue or event, call or send an email to:
949.329.5255
contact@sachikotiana.com
Pure, Raw, Connected
When it comes to music and artistry, the setting and atmosphere is everything. Though I'd love to perform in large arenas and have full staging and costuming, etc... there's NOTHING like an intimate house concert. One of my core values is connecting with others and the connection just isn't the same in those big, loud venues. I want to connect on a personal, intimate level with my pals, which is why I'd absolutely LOVE the opportunity to perform for you, right there in your living room (or backyard, deck, etc...). I promise to make it memorable and fun for you and your guests!